Did you know that 80% of the companies claim to provide excellent customer service, while only 8% of the customers agree on that, according to an HBR study? What are our results? Click here to see the report.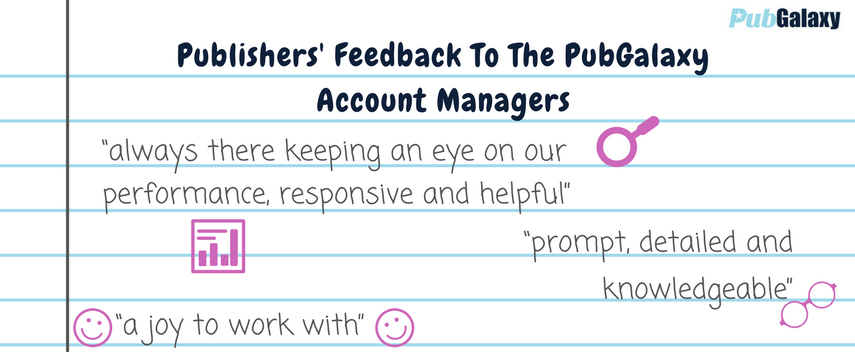 How did we achieve this? Our Account Managers are entirely focused on Your satisfaction and driving growth within Your company. Premium customers also have a full-blown dedicated team, which takes specialization to the next level – you virtually get an extension of your own team, targeted to achieve your goals.

With named experts in Yield optimization, Ad Quality, and Demand, your team will deep dive into your property specifics, monetization needs and opportunities, advise you on strategic decisions and meet regularly to discuss how to help you increase advertising revenue. Your Account Manager will serve as the single point of contact, as well as arrange weekly and monthly calls to review performance, discuss opportunities and provide strategic advice on monetization.
PubGalaxy Premium is designed to let you fully focus on the content creation 'hat' – crafting your awesome website and growing your audience.
Stay tuned how we help publishers solve the Two Hats Challenge by subscribing to our newsletter – just follow this link.