If you are monetizing your website with Google Adsense, either as a main method or as a backfill, you need to comply with Google's policies in order to stay in the game. Familiarizing yourself with the rules and guidelines of the technological giant is one way to approach the matter. Another useful practice is to check if you are committing any of the most common violations. This will help you fix any unintentional mistakes and prevent you from getting banned for serious offenses. So let's take a look at some of the most common Google AdSense violations.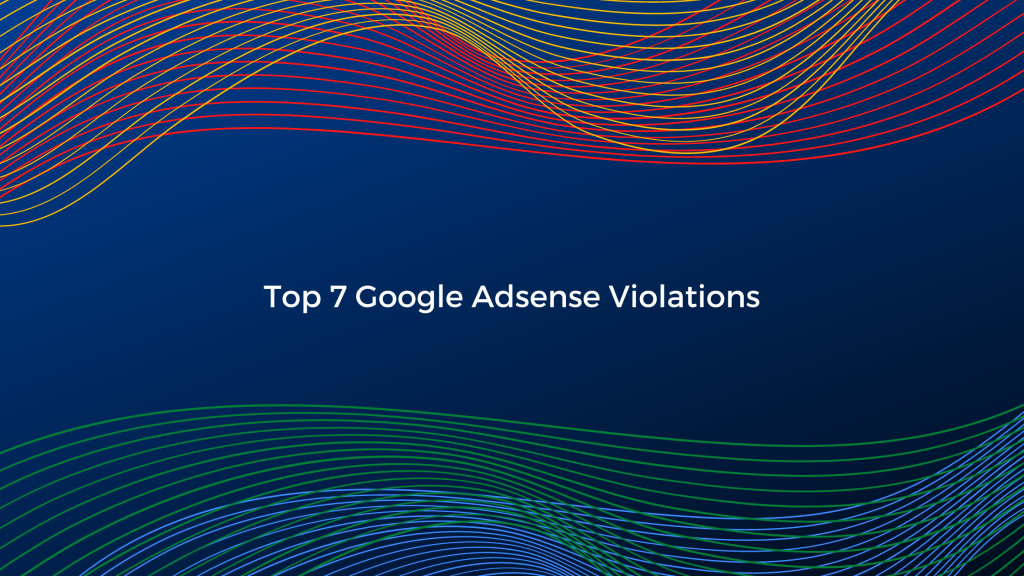 Clicking on ads on your website. Asking or paying others to do so.
This simply isn't fair play. If you were the advertiser, you wouldn't want to pay for clicks by users who aren't genuinely interested in your product or service. Therefore, you must not click on ads on your own website or try to "artificially inflate the impressions or clicks the ads receive, either through automated or manual means."*
This includes a ban for any activity that incentivizes users to refresh and/or click on ads, such as offering rewards, asking users to support your website by interacting with the ads on your site or using a third-party service that generates clicks or impressions. Don't ask your friends or family to do it either, as any repeated clicks are considered a violation as well and may cause you more harm than good.  
Note that you (or your testers) are not supposed to test clicks on live ads. There's a tool for that and it's right within the Adsense Publisher Toolbar.
Automated or bot traffic
This may be a no-brainer, but it's still a common Google Adsense violation. So, here's a reminder not to use bots or other deceptive software to generate impressions and/or clicks automatically. Be careful with purchased traffic, which is not prohibited, but you are responsible to monitor the traffic sources, and in the case of artificial traffic to the ads on your site, you would be the one responsible and in violation of the rules.
Deceptive ads
Whether it's a change in the appearance of the ad itself or placing it in a way that may cause more unintentional clicks, this is a major violation of Google Adsense policies. When planning your ad spots, choose their position on the page so that it would not confuse users that the ad is part of the content. Ads should not be placed in the site menu, navigation, or near download links. In other words, it should be very clear that ads are ads.
Another example of what is not acceptable is placing ads on thank you, exit, login, or error pages. Typically, those pages have almost no content and the ad(s) may be mistaken for part of your content.
Placing ads in a way that pushes content below the fold is also considered inappropriate ad implementation. A very common misuse of the 300×250 ad size, which when placed on top of the page pushes the content below the fold and accounts for accidental clicks.
Furthermore, your ad to content ratio should always favor your own content on any given page.
You may want to review Google's Ad Placement Policies for a full list of what is considered deceptive ad implementation.
Manipulating how ads are served
A quick and dirty trick used by a number of publishers to attract more traffic or to rapidly generate content is putting a load of keywords on your pages. You end up with very low-quality content that is often incomprehensible and messes up ad targeting so the ads on such pages become irrelevant. This is considered a violation of the Webmaster Quality Guidelines and manipulation of ad targeting, which is prohibited.
Placing ads within IFRAMEs is also forbidden and may as well cause reporting discrepancies.
Embedding ads in software applications
This is another major no-no by Google. Publishers are not allowed to embed ads in applications, including toolbars, desktop applications, browser extensions, etc. If you want to serve ads in mobile apps, you are only permitted to do so via the AdMob SDK.
Serving ads alongside prohibited or copyright-infringed content
Context is important and whether an ad would be served alongside a quality news article or a shady manual on how to make counterfeit documents makes a huge difference for advertisers. Here are a few types of content that are a showstopper for using Google Adsense:
Pornography, adult or mature content;
Promotion of any kind of illegal activity;
Underage, non-consensual, or illegal acts;
Promotion of violence, targeted hatred, or dangerous activities;
Copyrighted material that does not have the necessary legal rights, including framing content (showing someone else's website within a frame or a window on their own site).
User-generated content must adhere to the same standards in order for the website to be eligible to place Google Adsense ads. It's the publisher's responsibility to moderate it and make sure it's compliant with Google's policies. Third-party generated ads are also considered part of your content and as such must also comply with Google's requirements and be free of adult content and malware.
No Privacy Policy Page
If you want to monetize your website using Google Adsense (or any other major alternative), you'd better have a Privacy Policy page. If you don't have one yet, we recommend you create one the first chance you get – it's a simple and quick fix. The Privacy Policy should declare that your website is using browser cookies and collects user information, which is used to place contextual advertising.
Are you committing any of these Google AdSense violations?
You can actually review if Google has detected any violations on your website. Simply check the Policy Center in Admin>Policy>Web policy center/App policy center. There you will find a list of the issues detected along with some details. Your first priority should be those where the Must fix column is marked with Yes. You may also receive a "Warning" from Google as a first step before enforcing further consequences on your site or account.
What will the consequences be?
There are several types of consequences due to policy violations.
If invalid click activity or ads that are not in compliance with Google Ad Placement Policies are detected, then Google will deduct the respective amount from your revenues. Detecting invalid traffic may also lead to limited ad serving on your website, while an assessment is being made.
Any policy violations must be fixed, otherwise, Google will enforce them either with "Ad serving disabled", or with "Restricted demand". Ad serving can be blocked either on site or on an account level, depending on the violation. In the case of restricted demand, the publisher's inventory will be eligible for bidding from a lower number of advertisers and therefore performance will also be impacted.
If you consistently fail to comply with the policies, Google may suspend your account. If this happens, no ads will be served and no payments will be made. Your last revenues may be deducted and refunded to advertisers.
What to do in case of a violation?
If the Policy Center says your violation is a "Must fix", then you should immediately take action to resolve the issues and once you are ready, you should request a review. The form will let you add information about how you fixed the problem and what steps you've taken so it doesn't happen again. We recommend that you elaborate on the details as it may be crucial to reinstating your monetization.
Wrap up
Monetizing your website via Google AdSense is simple and effective, yet you need to follow the rules if you want to stay in the game. Familiarizing yourself with the most common violations and making sure not to commit them is efficient prevention. Make it a habit to regularly visit the policy center in your account, check for violations, and fix them promptly if any arise.