Google AdSense and Google AdExchange (AdX) are both advertising services operated by Google. They allow publishers to make money by running advertisements.
So, what is the difference between Google AdX and AdSense? Which platform would be best for you to offer your ad inventory on?
In this post, we'll go over the key features and discrepancies between Google AdX and AdSense.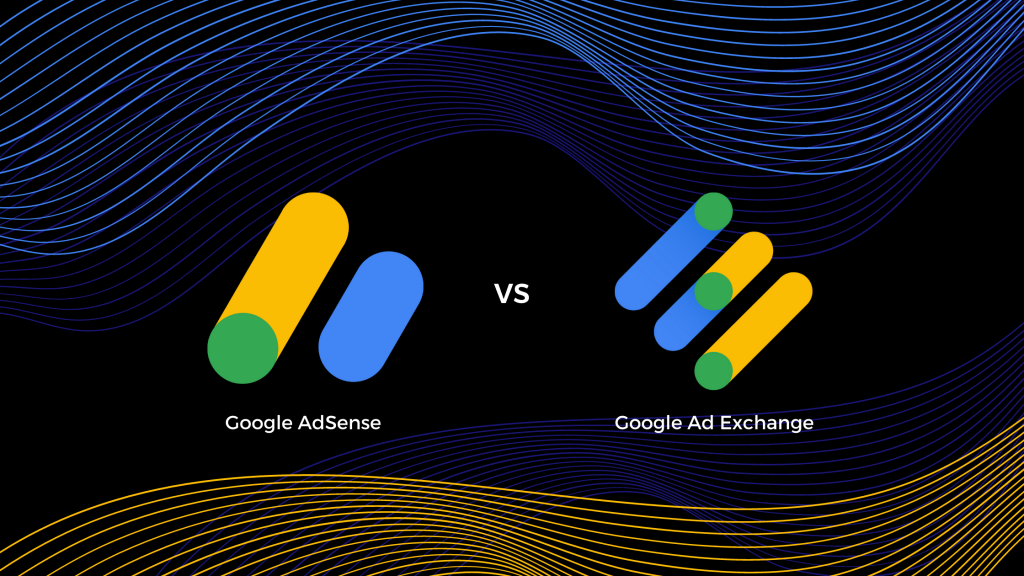 What is Google AdSense?
Google AdSense was created as an internal product in 2003. It is a free cost-per-click tool that places ads on websites based on the content and visitors of the publisher. All that enables publishers to benefit from each ad click.
Besides that, since CPM (cost per 1000 impressions) is in demand, publishers can receive extra revenue each time a CPM ad is served to the website and seen by a user.
Technically speaking, advertisers bid for ad placement in the same way as they do on the Google Ads platform. AdSense advertisements are derived from Google Ads, the Google Display Network, and other Google products.
Any publisher can use it because of the simple sign-up process. One of the best features of AdSense is that it instantly connects publishers with a large number of advertisers.
This is the most famous advertisement software on the Internet at the moment. It offers an excellent opportunity for webmasters and content creators to monetize their traffic — Google pays billions to its publishers per year. If you've ever wondered, how can you make money with AdSense – just try it out.
How to Get Started with AdSense
As mentioned, the process is pretty straightforward. To place AdSense ads on your website, you must first sign up and submit your website information for verification. You'll be good to go once they accept your request in a few days. Simply copy the AdSense ad tags and paste them into the HTML code of your website where you want the ads to appear.
How does it work?
AdSense is a free service, and once the tags are in place, the platform handles the entire operation. If your website passes the guidelines, it will be welcomed into the network and given the ability to show advertisements.
The publisher must add HTML source code into their web page, after which all related advertising will be available to all website users.
In addition, optimizing a Google AdSense operation to boost results will take a significant amount of time and effort on the part of skilled professionals. However, the getting started process is very easy, which explains its success amongst both publishers and advertisers.
While ad revenue share is strictly specified for displaying ads for content, publishers do have some control over the ads that appear on their site. For example, they can prohibit competitors, sensitive topics and categories, and even individual advertisements from appearing on their website. They may also alter the ad format and size (text or display, for example). It is critical for the publishers to carefully analyze these ad types and choose the best one for the site so that the ads blend in with the native content.
AdSense offers the following ad types:
Display ads – image banners that come in a variety of sizes, including full-page leaderboards and small buttons. Pure text advertisements, which were previously separated into their own category, have now been merged under this type;
In-feed native ads – this type of ad can be shown in RSS and blog feeds. However, some development skills will be needed to use them because it isn't a simple copy and paste action that is required to place the code into the feed;
In-article native ads – Those can be mixed between paragraphs in posts, similar to in-feed advertising, and they are displayed as suggested reading or similar topics.
The ads are generated by the Google Ads platform, which allows advertisers to create campaigns with ads and bid on keywords that will cause the placement of their ads. This also makes it very simple for advertisers to gain placement on the AdSense ad network.
So far we have discussed what AdSense is and how it works. Now let's go over the advantages and the drawbacks, so you can get a full picture.
The Advantages of Google AdSense
Let's begin with the fact that it is 100% free, and the ads are made by Google. This saves a huge amount of money and time that a publisher would have spent creating and optimizing their own designs. That is why a huge number of publishers and advertisers (as of today, over 10 million websites) are using it.
Another benefit is that you can put advertisements on multiple websites using a single account. It's also worth noting that you can also tweak the look of your ads as well as how they're shown.
There are several ad types to choose from. Advertisers may use AdSense to run text, photos, HTML ads, video ads, and much more in a variety of sizes. As a publisher, you can test various ad styles to see which ones generate the most revenue.
Other benefits of using AdSense is the high level of security, safety, and transparency for both advertisers and publishers. Google acts as a mediator between the two parties, ensuring that the whole process is open and accessible to all parties. All of the required metrics are trackable through your Google Analytics account.
AdSense eligibility requirements
You must meet the eligibility criteria to participate in the AdSense program. Before you sign up for an account, consider the following:
Website's content – it has to be unique and interesting and also it must be high-quality, original, and attractive to the audience;
Policy Compliance – the content should adhere to the AdSense Program policies before you sign up. Bear in mind that Google reserves the right to change their policies at any time, and it is a publisher's duty to stay up to date with them in accordance with the Terms and Conditions;
One should be at least 18 years old – AdSense only accepts applicants who are over 18 years old;
What is Google AdX?
AdX (Google Ad Exchange) started out as DoubleClick Ad Exchange, a company established in 1996 as an ad server. Google purchased it in 2008. The acquisition was controversial at the time because there were fears that Google would gain too much leverage over online ads.
So, what exactly is Google Adx? It is a programmatic advertising platform that provides ad networks, including AdSense, agencies, and demand-side platforms with real-time bidding (RTB) on ad spaces.
Publishers who use Google AdX have access to a wider inventory and can connect with customers from Google Ads and other marketplaces.
The Ad Exchange allows display ads and ad space to be distributed much more effectively and conveniently across the network by creating an open marketplace where prices are set in a real-time auction.
Publishers can maximize the value of their ad space and gain access to more advertisers while maintaining power over who can advertise on their platform. Advertisers, on the other hand, gain access to more websites and ad space, as well as greater control of where their ads appear.
AdX also gives publishers much greater leverage over their ad space and helps them to sell their ad inventory directly. There is also more competition for ad inventory, resulting in higher revenue per ad unit sold.
How to Get Started with AdX
AdX, unlike AdSense, cannot be directly integrated into a publisher's website. This means that in order to use AdX, the publisher must first register a Google Ad Manager (GAM) account.
Google Ad Manager offers publishers the option of displaying direct campaigns on their website. If you want to use AdX to sell your ad inventory, setting it up can be a bit tricky. Since access to the AdX ad exchange is generally reserved for large publishers, a Google representative has to manually approve your application.
Begin by applying for Google Ad Manager. You will receive DoubleClick for Publishers (DFP), a Google ad server, as well as a Google Account Manager. A Google representative will inform you whether or not you are qualified for an AdX account. Here is what you'll need to get an AdX account. Keep in mind that a publisher's website can be rejected if it is known to display inappropriate content and/or has a low ad viewability score.
How does Google AdX work?
The procedure for publishers who want their site to be part of the AdX inventory is more complex than it is for AdSense. The AdX inventory is massive and is made up of smaller websites through networks such as AdSense, as well as a handful of other networks and display inventory.
Google AdX is based on selling impressions, the main focus is to exchange display inventory with big sites that have lots of traffic. That is why larger sites are more likely to be eligible for this exchange.
As a publisher using AdX, you can set floor prices and control who bids on the available ad units in the exchange. Also, there are many more possible buyers through different types of auctions Publishers can sell their ad unit inventory through these three kinds of auctions:
Open auction – The auction is open to all publishers and advertisers, and the publishers are anonymous. It is the most common or default auction form.
Private auction – Publishers offer ad placements on their site by targeting a specific group of advertisers directly. Significant part here plays the publisher brand and profile, as the publishers are no longer anonymous. All that has its influence on how well a private auction can perform.
Preferred deal – In this case, publishers sell a deal directly to an advertiser. This allows them to gain an exclusive access to selected inventory before it is auctioned off in a private or open auction. Advertisers can then guarantee placement on publishers that are compatible with their brand or have better conversion rates in return for paying a higher price than would be paid in an auction process.
It is more demanding than using AdSense to manage and optimize a Google AdX account and either an ad agency, an ad operations team or at least a dedicated resource are required.
Publishers' decisions here can affect advertising revenue significantly. For starters, setting up an unnecessarily high floor price can cause advertisers to overlook other, less costly alternatives, causing your revenue to collapse.
The Advantages of Google Ad Exchange
AdX is a sophisticated Ad ecosystem with advanced features, which helps publishers to monitor their inventory and how it is sold more easily. Further benefits include:
Access to more demand – Although AdSense requests originated only with the latest updates from Google Adwords, Google Display Network, AdSense currently covers most of the programmatic demand. However, with the integration of various DSPs, Google AdX offers higher demand, not within the AdSense network. More demand means more competition, resulting in higher publishers' revenues.
Flexibility and control – AdX gives the inventory more power and versatility with a variety of tools;
Passback Technology – By setting up passback ads, AdX will monetize your uncompleted inventory. It enables us to leverage your inventory by selling it to other partners.
Advanced Reporting – Compared to AdSense, AdX has an advanced reporting feature. Whilst AdSense provides websites, ad units and sizes reports, Google Adx provides comprehensive reports with better optimization, including advertisers, buyers' networks, computers, etc.
AdSense or AdX – Which one is more beneficial?
The best response for which network is better depends on the budget and know-how of the companies.
AdSense and AdX have several similar features; However, AdSense allows lower budget advertisers and an opportunity for all websites to profit from displaying ads on their site, with little to no experience. AdX, on the other hand, is more expensive and complex, needs skilled management, but has a larger inventory with greater control.
As of the revenue share, AdX publishers keep a higher percentage of the revenue than AdSense publishers. Furthermore, we will recommend AdSense to small to medium-sized publishers that lack technological expertise. AdX is best suited for advanced publishers with extensive knowledge of the technology and advertising industries.
Keep in mind that AdSense pays you per click. If your CTR is big, you might earn more with this platform. Keep an eye on your operations, however, because if your CTR is higher than normal, it's possible that you've been getting false clicks. CTR is a critical metric for AdSense efficiency.
If you consider monetizing your website and your website has good traffic (for example, over 500K page views per month), but you are still wondering which way to go – get in touch with us. PubGalaxy's experience, knowledge, and advanced technology can connect you not only to Google Adx but also other SSPs. in order to maximize your ad revenue.