Are you looking for a way to step up your Google AdSense game? Google Ad Exchange (AdX) has a reputation for being able to deliver on those high ad revenues that all publishers aspire to. Via Google's AdX publishers gain access to a wider pool of demand sources, the ability to set direct and preferred deals, as well as a plethora of new options to manage, optimize and monitor their ad inventory. It's an enticing and lucrative endeavor and it's understandable why so many publishers want in. Before finding out how to start using Google AdX, let's first get a better understanding of what it is and how it works.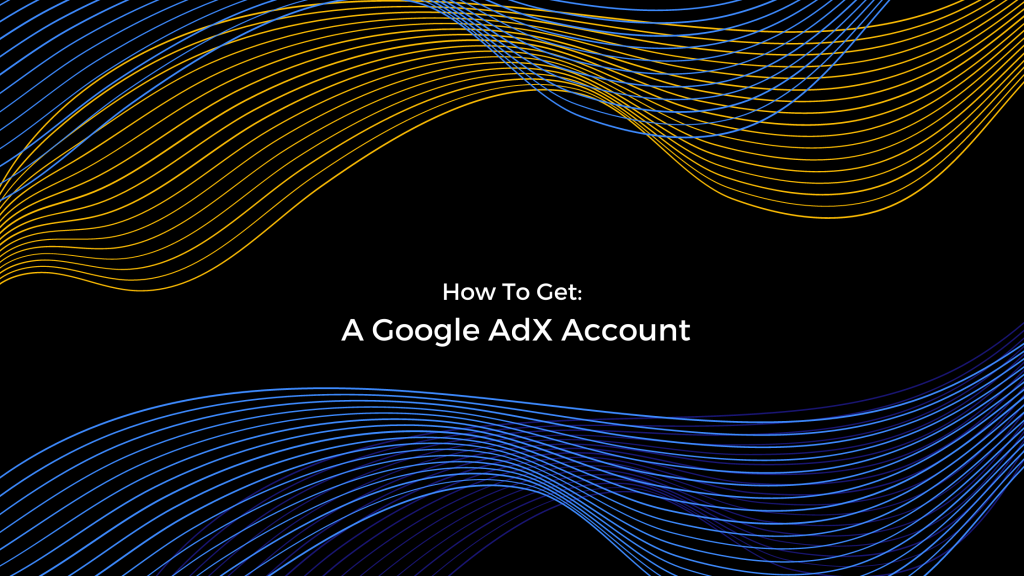 What Is Google AdX?
Google Ad Exchange, or Google AdX, is Google's programmatic marketplace where publishers, advertisers, networks, and agencies meet to auction ad space in real-time, as well as in direct and private deals. In comparison to Google AdSense, AdX offers access to a much larger inventory and a robust pool of buyers, including third-party networks and advertisers. This creates superior competition and results in higher revenues for publishers. In addition, the platform features advanced functionalities that give publishers more control over how their ad inventory is auctioned. This, however, translates to a more resource-intensive operation. As opposed to Google AdSense, which is a plug-and-play sort of solution, using Google AdX would require extensive knowledge to set up and manage optimizations and dedicated resources, such as an ad ops team in place, and/or third-party support.
How Does Google AdX work?
In terms of auctions publishers can access via Google Ad Exchange, there are three types to consider:
Open Auction: all publishers and advertisers can participate in the bidding with this standard auction.
Private Auctions: publishers invite advertisers/demand partners to bid on a selected portion of their ad inventory and only those buyers can participate in the auction. Publishers can also set minimum CPMs per buyer to allow them to enter the bidding only if they meet the publisher's expectations. The success of such auctions depends heavily on the publisher brand and their audience profile.
Preferred Deals: with this option publishers can give priority to specific advertisers. They can offer the buyer of choice exclusive access to the unique inventory before it goes to open or private auctions.
How To Get A Google AdX Account?
Now that you know what Google Ad Exchange is and how it works, let's see how publishers can get access to it. There are a couple of ways to join Google AdX:
Apply directly
You first need to have a Google Ad Manager account. This is open to anyone with an AdSense account, so you simply need to sign up for it.
But What Is Google Ad Manager?
Google Ad Manager is the platform where publishers can manage their advertising streams, leveraging various tools and services. It offers access to AdSense, Ad Exchange (AdX), as well as multiple third-party networks. Among other things, via Google Ad Manager publishers can manage ad serving, set up and run direct deals, and monitor their revenue. You can use Google Ad Manager with an AdSense account, however, Google AdX is not accessible to everyone.
If you are already using Google Ad Manager, you'd have an assigned account manager. The next step is to contact him/her and ask to be approved for Google AdX access. This person will manually vet your website and approve or reject your application. Publishers who have substantial enough traffic can even negotiate their ad revenue share to maximize their returns.
What are the minimum requirements?
While those are not publicly listed, the most common number you'd hear is 5 mln monthly pageviews or 10 mln monthly ad impressions through Google AdSense. In addition to that, your website needs to have family-friendly, brand-safe content, a clean record with Google, and an updated ads.txt file. Meeting these criteria, however, does not guarantee you access to AdX. There will be additional checks on ad viewability, safety, and quality concerns, and ultimately it's Google's decision to onboard you or not.
Apply through an MCM partner
If you are not approved for your own Google AdX account, the next best thing is to get access through a third party. Google AdX resellers are usually part of Google's Multiple Customer Management (MCM) program and/or the Google Publishing Partner program. PubGalaxy, too, can offer you access to Google AdX, as well as additional support in managing your inventory to achieve the best results with the platform's advanced capabilities. This option is great for publishers who want to focus on content and growing their audience, while an expert takes care of the ad ops heavy-lifting. An added bonus of working with PubGalaxy would be access to other ad exchanges that we partner with, such as Xandr, OpenX, Criteo, and IndexExchange, to name a few. Greater demand for your inventory means higher competition and ultimately better revenues.
Wrap Up
Google AdX is the largest ad exchange currently and it gives you access to a vast demand network, a new set of auction opportunities, as well as advanced optimization and management options. When used with expertise and knowledge, it has great revenue potential, no matter if you use it directly or via a third party.